Founder Spotlight: Mike Maguire on The Foundation of army8's Build to Scale and Execute More Model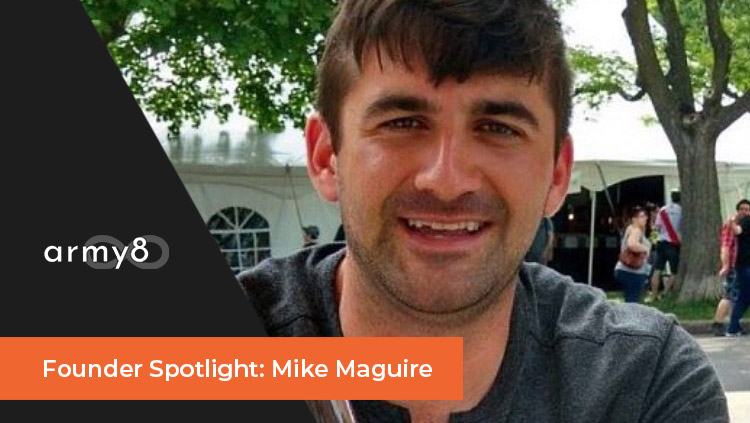 Greatness isn't built in a day. To achieve greatness, it must be intelligently plotted, seamlessly executed, and meticulously tended to in order to ensure its continued growth and success. For greatness to work, you need to strike the right balance between vision and execution, and above all, you need the perseverance to overcome what can feel like endless trial and error to find a team that can deliver.
According to army8 co-founder Mike Maguire, the early success of the business was as hard-won as it was serendipitous. Luckily, all three co-founders Nate McKelvey, Josh McKelvey, and Mike himself each brought a unique set of skills to the table: Nate, known for his strategic mind and comprehensive, holistic business approach; Josh, with his passion, penchant for innovation, and pulse on all things digital; and Mike, with his background in operations & technology forming the perfect marriage among the three, thereby enabling their then-three person team to execute with quality and precision.
The team has grown along with the business, and Mike credits the vendor network they've built slowly over the years as what has gotten them where they are today. The vendor network is the manifestation of greatness over time – a tried-and-tested pool of freelance experts in their respective fields whose work has proven to add value to the projects they touch. 
No other agency embodies the mantra of Think Bigger, Build to Scale, and Execute More better than army8 itself and in the heart of it lies Mike's dependability and steadiness, traits that he carried with him as he built army8's vendor network. With the vendor network flourishing as a turnkey solution on its existing scale, Mike and army8 now set their sights on expanding this network and extending it to clients and other agencies. As Chief Operating Officer, Mike lends his expertise and takes on the challenge of expanding it on a much larger scale. Built on his experience working with other platforms, Mike shares that the vendor network is being built to work easily and intuitively regardless of need – whether it's a straightforward, non-technical deliverable or a detailed, in-depth year-long campaign. 
"It's an exciting new challenge for us," Mike enthuses. "It's the next step in helping businesses grow and execute more, and we're looking forward to sharing it with others."
https://army8.com/wp-content/uploads/2022/02/mike-maguire-army8-founder-2.jpg
423
750
carla
https://army8.com/wp-content/uploads/2019/04/logo-army8-final.png
carla
2022-02-08 17:55:08
2022-02-08 17:58:58
Founder Spotlight: Mike Maguire on The Foundation of army8's Build to Scale and Execute More Model