Carla Higham on Expanding Networks and Empowering People through Storytelling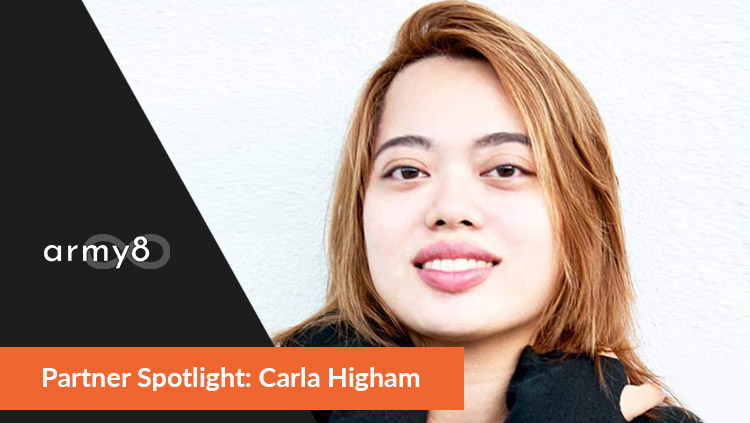 At the core of everything she does, Carla Higham is a storyteller. 
After graduating with a bachelor's degree in international marketing with a minor in advertising and public relations from the American City University, Carla entered the workforce as a Junior Marketing Manager for a clothing company. This led her to pursue an extensive career in advertising and PR, handling everything from strategy to tactics for big brands. Notably, Carla was a key player in bringing the influencer trend to Southeast Asia, initially presenting bloggers to big brands as a way of navigating limited budgets.
She carries this over to her role in army8, where her emblematic people-first approach and unique ability to storify content and strategy – more specifically, crafting authentic brand narratives that foster meaningful, lasting connections with audiences – are only amplified.
Since joining army8 in the middle of the pandemic in 2020, Carla's work in expanding the vendor network has been invaluable. Sharing the vision of freelance work as the future, Carla is candid when talking about the joy she gets from being able to empower, in her words, people like her who were looking for better opportunities when she was in the Philippines. 
"Ten years ago, if you said that, 'Oh, I want to work for a company that's not based where I am,' it seemed impossible." Carla muses on her current role in the company. This only serves to highlight the value she places in the coming launch of army8's Pocket App, citing it as "bringing in a new way to work. It's breaking away from old traditions of work and coming up with this new idea and of approaching clients and freelancers. That, to me, is very exciting; it's empowering people and giving them tools that they need whether to grow as a freelancer or as a business owner." 
Growing up, Carla dreamed of performing. She may not be winning Oscars or Emmy Awards but with army8 as her stage, it's undeniable that she has her audiences held captive, and is Thinking Bigger, Building to Scale, and Executing More positive change in people's lives.
https://army8.com/wp-content/uploads/2022/04/carla-higham-partner-spotlight-1.jpg
423
750
Mike Maguire
https://army8.com/wp-content/uploads/2019/04/logo-army8-final.png
Mike Maguire
2022-04-03 14:07:10
2022-04-03 14:10:14
Carla Higham on Expanding Networks and Empowering People through Storytelling